The "Read Then Write Workshop" dug deep roots during my time at Spalding University's International Low-Residency program. My first professor/mentor was Flannery O'Connor Award Winner, Dr. Philip F. Deaver. His answer to any wall I bumped against? "Read, then write. Read, then write. Read, then write." He was right. It's that simple—combined with trusted guidance and instruction from top-notch faculty and a vibrant, warm writing community, pursing your MFA in Writing at Spalding University is a no-regret choice.
If you are considering an MFA in Writing in the future, I'm happy answer questions. It's true, I will point you in the direction of Spalding University's low residency MFA program. Granted, it's looking a little different during this pandemic. But it's the best thing going for all aspects of living the life of a writer. As an alumni of the program, I can recommend you and you'll qualify for a $2000 grant your first semester. Send a message through the Contact page.
Click here for Spalding University Professional School of Writing Facebook page.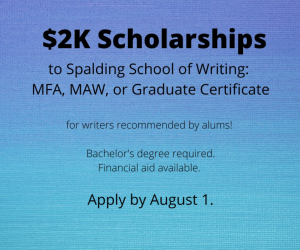 After August 1, 2020: "Spalding University's School of Creative and Professional Writing is delighted to announce Renau Scholarships of $2,500 for students entering the MFA, MAW, and certificate programs. These awards are made possible through a generous $50,000 gift from the Renau Foundation, benefiting new graduate creative writing students who are eligible for financial aid. Apply now for the Fall semester, beginning with residency November 13-22. For information, email schoolofwriting@spalding.edu."